RawTherapee 4.0.8 is out!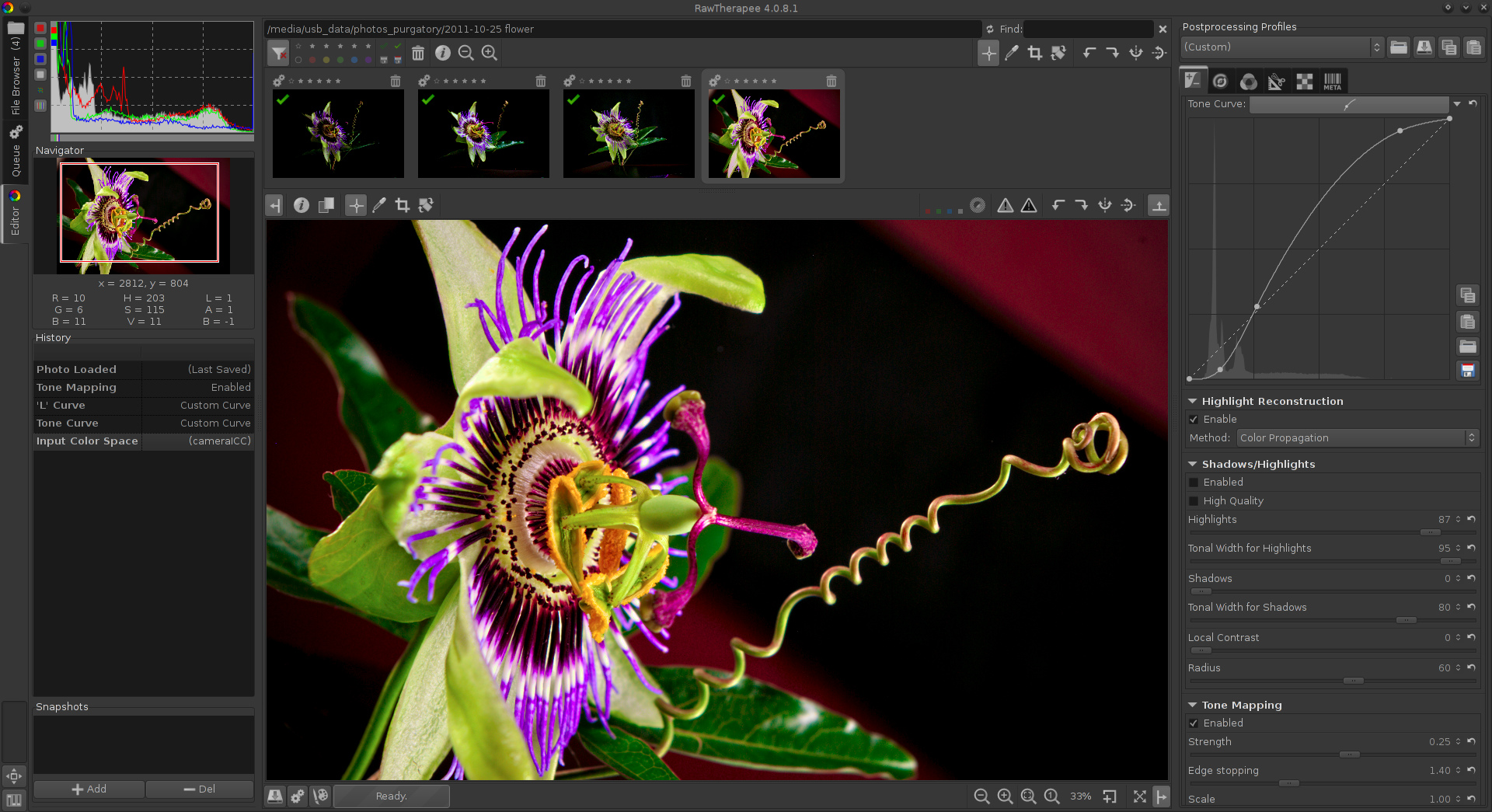 Support for loading, saving, copying and pasting partial profiles
Support for using clipless DCP input profiles
Subdirectory support for ICC and DCP profiles
Support for RGBLF preview modes in the Before|After view
Automatic support for CaptureOne and hacked Nikon ICC profiles
New input color profiles (DCP and/or ICC) for the following cameras:

Canon EOS 7D
Canon EOS 60D
Canon EOS 40D
Canon EOS 400D
Canon EOS 550D
Canon Powershot G12
Nikon D50
Nikon D300
Nikon D3000
Olympus E-1
Pentax K10D
Sony A900
In addition to these new features, as usual there were numerous bug-fixes, and speed and stability improvements.
Work is well underway on a number of other features, among them improved noise reduction, XMP and Lua support. In addition to that we're plugging memory leaks and working towards making RT run faster and use less memory. Stay tuned!
Differences between the preview and the output image. The color-managed preview in RawTherapee is (and has always been) based on image data in the Working Space profile. Although the actual preview is rendered using a monitor profile (or sRGB profile, if the monitor profile is not specified), it does not reflect the Output Profile & Output Gamma settings. This can lead to a slightly different output rendering when Working Space profile and Output Space profiles are not the same. A workaround is to set them to the same values to ensure the preview accurately reflects the final rendered output.
For generic use in an sRGB workflow when the output target is web-based image display, it is recommended to use the default values of the Color/ICM toolset (Working Profile = sRGB, Output Profile = RT_sRGB).
Future releases of RawTherapee are planned to support a more comprehensive color-managed preview that will allow proofing with accurate visualization of the final output render based not only on the working space and monitor profiles, but also on the user-selected Output Profile and Output Gamma.