Spring is here (or autumn, for those on the other side of the planet), and it's a fantastic time to capture nature in its fresh, luminescent-green light (or that intense, golden-red autumn light!), and how better to develop your raw photos than with RawTherapee 4.1-stable!
YES! It's been a long journey since the last version we officially called stable, version 3.1. A few years have passed, many new tools and features have been added, a million little bugs were squashed, and now it has arrived!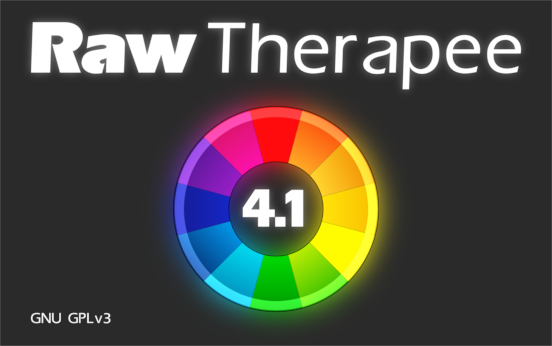 Be sure to read RawPedia to understand how each tool works to make the most of it.
In order to use RawTherapee efficiently you should know that:
You can scroll all panels using the mouse scroll-wheel.
To change slider values or drop-down list items with the mouse scroll-wheel, hold the Shift key. This is so that you can safely scroll the panels without accidentally changing a slider or other tool setting.
All curves support the Shift and Ctrl keys while dragging a point. Shift+drag makes the point snap to meaningful axes (top, bottom, diagonal, other), while Ctrl+drag makes your mouse movement super-fine for precise point positioning.
There are many keyboard shortcuts which make working with RawTherapee much faster and give you greater control, make sure you familiarize yourself with them on RawPedia's Keyboard Shortcuts page!
Since 4.0.12
Pipette tool for curves.
Support for floating-point HDR raw DNG images.
Enhanced look for all tools (panel background).
Enhanced look for crop guides, zoom guides  straightening line, Navigator panel and detail windows.
Enhanced focus mask.
Skin-tones targetting for Contrast by Detail Levels tool.
"None" demosaicing method to show the raw image without demosaicing.
New algorithm for orange, yellow, cyan, purple and magenta in the Black-and-White tool.
Set the cache and config paths using environment variables.
JPEG subsampling parameter in the command-line interface.
The opened/closed state of the left and right panels of the File Browser tab is now remembered between sessions.
RawTherapee's window size and position are remembered between sessions.
When cropping, click anywhere without dragging to clear crop.
Added 'no wait' option (-w) for command-line (Windows
only).
dcraw 9.20 Revision: 1.461.
New or improved support for:

Canon EOS 5D Mark II
Canon EOS 5D Mark III
Canon EOS 6D
Canon EOS 40D
Canon EOS 50D
Canon EOS 60D
Canon EOS 70D
Canon EOS 600D/Rebel T3i/Kiss X5
Canon EOS 650D/Rebel T4i/Kiss X6i
Canon EOS 1200D/Rebel T5/Kiss X70
Canon EOS-M
Canon PowerShot G1 X Mark II
Canon PowerShot S120
Fujifilm S1
Hasselblad CFV-50
Nikon 1 V3
Nikon D4s
Nikon D3300
Nikon D5300
Nikon D7000
Olympus E-M10
Olympus E-PM2
Panasonic DMC-GH3
Panasonic DMC-GH4
Panasonic DMC-GM1
Panasonic DMC-GX7
Panasonic DMC-LF1
Panasonic DMC-ZS40/Panasonic DMC-TZ60
Panasonic DMC-ZS41/Panasonic DMC-TZ61
Pentax K10D
Pentax K-3
Phase One IQ180/IQ280
Phase One IQ260
Phase One IQ260
Phase One P20/P20+
Phase One P21/P21+
Phase One P25/P25+
Phase One P30/P30+
Phase One P40+/IQ140
Phase One P45/P45+
Phase One P65+/IQ160
Samsung NX30
Sony ILCE-7R
Sony ILCE-3000
Sony ILCE-5000
Sony ILCE-6000
Sony NEX-5N
Sony SLT-A77
Sony SLT-A99/Sony SLT-A99V